Douglas Osto, PhD.
Altered States: Buddhism and Psychedelic Spirituality in America, New York: Columbia University Press, 2016.
In praise of Altered States:
Altered States genuinely moves forward in laying a path for new, insightful, and valuable information on the American Buddhism that is developing in our global society. Osto's groundbreaking research will be appreciated by scholars, and his accessible style will be enjoyed by non-academic readers.
(Charles Prebish, Utah State University)
Altered States deftly guides us through the neglected territory of psychedelic Buddhism. This is a fascinating story, full of vivid characters and supported by solid research. Still, I believe it makes a greater contribution in situating these practices and persons in the larger contexts of tantra, of American religion, and of cutting edge neuropsychology and consciousness studies. The result is―to use le mot juste―mind blowing.
(Franz Metcalf, California State University, Los Angeles)
[Altered States] mixes statistics and surveys, historical overview, personal experience, and ethnographic texture to uncover the intertwining history of two fast-growing movements in American spirituality…. This overview will appeal to anyone interested in Buddhism, psychedelic possibilities, and understanding how both are forging a controversial new American religious experience.
(Publishers Weekly)
Provocative…. The book is worth buying, reading, and quoting.
(PsycCritiques)
Power, Wealth and Women in Indian Mahayana Buddhism: The Gandavyuha-sutra, London: Routledge 2008.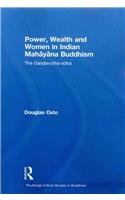 Click here for the paperback version from Amazon.
For academic reviews of this book, see:
Articles & Book Chapters:
"Altered States and the Origins of the Mahāyāna," in  Setting Out on the Great Way: Essays on Early Mahāyāna Buddhism, edited by Paul Harrison (Sheffield: Equinox, 2018), pp. 177-205.
"No-Self in Sāṃkhya: A Comparative Look at Classical Sāṃkhya and Theravāda Buddhism," Philosophy East and West  68.1 (January 2018): 201-222.
"Merit" in The Buddhist World, edited by John Powers (London: Routledge, 2016), pp. 351-366.
"Orality, Authority and Conservatism in the Prajñāpāramitā Sūtras," in Dialogue in Early South Asian Religions, edited by Laurie Patton and Brian Black (Farnham: Ashgate 2015), pp. 115-135.
"A New Translation of the Bhadracarī with Introduction and Notes," New Zealand Journal of Asian Studies 12.2 (December 2010): 1-21.
"The Supreme Array Scripture: A new interpretation of the title 'Gandavyūha-sūtra'," Journal of Indian Philosophy 37.3 (June 2009): 273–290.
"'Proto-Tantric' Elements in the Gandavyuha Sutra," Journal of Religious History 33.2 (June 2009): 165-177.
"Soteriology, Asceticism and the Female Body in Two Indian Buddhist Narratives,"Buddhist Studies Review 23.2 (2006): 203–220.
For PDF files of published papers, see http://massey.academia.edu/DougOsto
Book reviews by Douglas Osto:
Eviatar Shulman, Rethinking the Buddha: Early Buddhist Philosophy as Meditative Perception, in Religion 47:1 (2017): 117-120, DOI: 10.1080/0048721X.2016.1188630.
Carl Olson, Indian Asceticism: Power, Violence and Play, in Religion 47:1 (2017): 114-117, DIO: 10.1080/0048721X.2016.1188629.
Robert M. Geraci, Virtually Sacred: Myth and Meaning in World of Warcraft and Second Life, in Religion 46:4 (2016): 682-686, DIO: 10.1080/0048721X.2015.1123579.
Jeff Wilson, Mindful America: The Mutual Transformation of Buddhist Meditation and American Culture, in Religion 46:3 (2016): 464-468, DIO: 10.1080/0048721X.2015.1089738.
Erik Braun, The Birth of Insight: Meditation, Modern Buddhism & the Burmese Monk Ledi Sayadaw, in Religion, 45:4 (2015): 625-627, DOI: 10.1080/0048721X.2015.1036718.
Gananath Obeyesekere, The Awakened Ones: Phenomenology of Visionary Experience, in Religion 44.1 (2014): 164–166.
Naomi Appleton, Jātaka Stories in Theravāda Buddhism: Narrating the Bodhisatta Path, in The Journal of Religion, 93.4 (October 2013): 520-521.
Richard S. Cohen, The Splendid Vision: Reading a Buddhist Sutra, in Religion 43.3 (2013): 436–439.
Jason Neelis, Early Buddhist Transmission and Trade Networks: Mobility and Exchange within and Beyond the Northwestern Borderlands of South Asia, in Buddhist Studies Review 29.2 (2012): 301–303.
Andy Rotman, Thus Have I Seen: Visualizing Faith in Early Indian Buddhism, Cynthea J. Bogel, With a Single Glance: Buddhist Icon in Early Mikkyo Vision, in The Art Bulletin 93.4 (December 2011): 486–489.
Lee Gilmore, Theater in a Crowded Fire: Ritual and Spirituality at Burning Man, in Religion 41.3 (November 2011): 499–503.
John Powers, Bull of a Man: Images of Masculinity, Sex and the Body in Indian Buddhism, in Religion 41.2 (June 2011): 290–294.
Sree Padma and A. W. Barber (eds.), Buddhism is the Krishna River Valley of Andhra, in Religion 40 (2010): 65–66.
Daniel Boucher, Bodhisattvas of the Forest and the Formation of the Mahāyāna: A Study and Translation of the Rāstaprapālaparipcchā-sūtra, in New Zealand Journal of Asian Studies 11.2 (December 2009): 203-7.
Jonathan A. Silk, Riven by Lust: Incest and Schism in Indian Buddhist Legend and Historiography, on H-Net Reviews, H-Buddhism (October 2009).
Douglas E. Cowan and David G. Bromley, Cults and New Religions: A Brief History, in Religion 39 (2009): 210–211.
Ralph Flores, Buddhist Scriptures as Literature: Sacred Rhetoric and the Uses of Theory, in Religions of South Asia 3.1 (2009): 151–153.
Susanne Mrozik, Virtuous Bodies: The Physical Dimensions of Moralityin Buddhist Ethics, in Religion 38 (2008) 403–404.
Barbra Clayton, Moral Theory in Santideva's Siksasamuccaya: Cultivating the Fruits of Virtue, in Journal of Buddhist Ethics 15 (2008): 63–67.
Barabara Hendrischke, The Scripture on Great Peace: The Taiping Jing and the Beginnings of Daoism, in New Zealand Journal of Asian Studies 10.1 (June 2008): 170–172.
Dan Arnold, Buddhists, Brahmins, and Belief: Epistemology in South Asian Philosophy of Religion, in The Journal of Religion 87.1 (January 2007): 128–130.
Gavin Flood, The Ascetic Self: Subjectivity, Memory and Tradition, in Religion 36 (2006): 58–60.