Doug's approach cuts through the "woo-woo" of New Age spiritualism to offer spiritual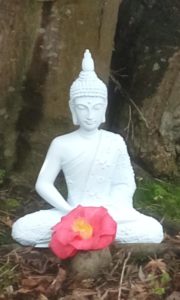 counsel for any one interested in going beyond the limitations of "feel good" pop psychology and consumer capitalism. Doug approaches spirituality as an integral part of being human, and as an "art of living" that takes into account the BIG questions — the meaning of life, death, and our ultimate destiny.
Similar to martial arts or dance, spirituality is an intensely personal affair that involves an embodied practice aimed at the transformation of the individual. Thus spirituality is more than religion, and very often one's spirituality is not connected to any formal religion (though it can be).
As a spiritual advisor, Doug works with individuals and groups of any religious background or none in order to help people move forward in their chosen path. As the inventor of "O.S.T.O. Mind Training" (Overcoming Self-limitations Through Observation), Doug uses his extensive experience in mindfulness meditation, Asian philosophies, and hypnosis to help people develop a program best suited for them.
Because Doug is passionate about helping people, he offers anyone interested one free hour of consultation. If the potential client is interested in continuing the process, a fair payment for services is agreed upon for future meetings.
Comments about Doug:
I met Doug at the Theosophical society in Palmerston North New Zealand where he was leading a weekly non-secular meditation group. I began sitting in on his lectures at Massey University where he was lecturing on Eastern Religions and Philosophies such as Buddhism and Hinduism. His meditation instructions and lectures opened me up to a whole new world of internal and external spiritual exploration! It is great working with and learning from Doug because he has a wonderful understanding of the history of religions and spirituality but also is up on what's currently happening on the scene. He also has a very profound personal journey and story of searching and discovery which grants him the ability to help ease the confusion, disorientation and even pain caused by the inevitable stumbling blocks that arise in the path of any spiritual seeker.
Doug is a warm hearted, genuine guy who likes to share what he has experienced, reads, knows and believes. He is very good at holding multiple points of view, which allows him to fully explore the societies, religions and contexts of other cultures. He is an absolute joy to interact with because his intellect is top notch and he will help others see things from angles they may not be aware of or have fully considered. This is very welcome for people who are truly looking to expand their concepts of spirituality, religion and reality. When I interact with Doug I feel like no topic is off limits and all is welcome. To borrow a Buddhist term, he is a true Kalyanamitra, a spiritual, virtuous and noble friend that will lift and help guide your boat though the waves that can arise during a spiritual voyage.
To not put to fine a point on it, just spending some time around the guy, as if through the power of osmosis, some lovely energy and knowledge will be transmitted and received. But don't take my word for it, drop him a line and see.
(Nate, from Woodstock, New York)
Doug knows how to connect with people and is eager to figure out the root of a problem if you present him with one. This is what makes him such a great person to talk to if you are struggling with something emotionally or mentally. Anything that troubles your mind he embraces with calming words that will put you at ease and together you will figure out how keep that peace in you.
(Philipp, Netherlands)
If you are interested in knowing more, contact Doug as douglasosto (at) gmail (dot) com, or texted +64 (0) 210442922.